DISCOVER THE ARONIA BERRY
Do you know which healthy ingredients are hiding underneath the skin of this small deep purple fruit?

WHAT IS ARONIA BERRY (CHOKEBERRY) AND WHAT ARE ITS HEALTH BENEFITS?
The term "superfood" has been given to so many berries and vegetables now, that it's almost lost its meaning, but that's exactly what the Aronia berry is. While the berries have been used in Native American medicine for hundreds of years, scientists are only now studying what benefits it has for our health, and their findings are extremely positive.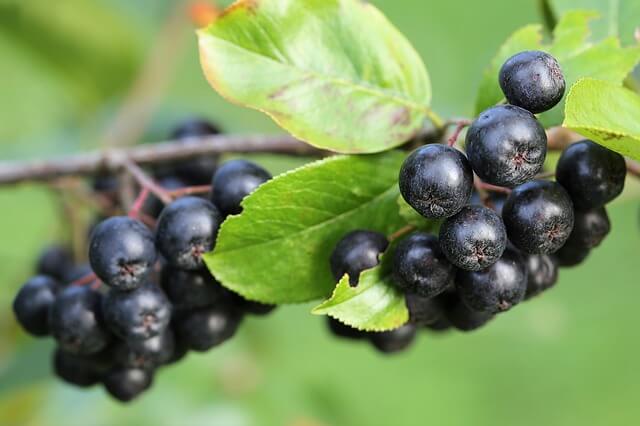 As the Aronia fruit has such a holistic and natural effect on health and well-being it is also often known as a "superberry". Thousands of people have, by now, discovered this berry and the effect of its exceptional substances.
Read more
In our online store we offer high-quality organic products made from Aronia, such as Aronia juice, tea and dried berries. Try the Aronia berry now! Order comfortably online 24/7. Free shipping for orders over CDN$ 75 within Canada!
Visit Shop
Aronia melanocarpa or black chokeberry is a multi-stemmed, deciduous, eastern North American shrub. Each mature plant produces an abundance of white flowers in midspring, but you won't see fruit until autumn. The berries are so dark purple that they appear almost black.
Read more
What are Aronia Berries?
Aronia berries grow in North America in small bunches, much like blackcurrants, blueberries, and cranberries, but have earned the nicknames "apple berries" and "choke berries" because they look more like stone fruit inside. There are two forms of chokeberry plants (Aronia melanocarpa); red and blue, though the blue is most common, and has the same blue-black shade of a blackberry. The fruits are about the same size as a blueberry, have a similar sharp taste to blackcurrants, and only contain 13 calories per 28g (fresh).

Traditionally, Native Americans used choke berries as a cold remedy, and likely found them an effective cure due to the berries' richness in antioxidants, and current studies are showing that they have wide-spread health benefits.
100 g
of Aronia Berries provide:
Calories: 46 kcal
Protein: 2 grams
Fat: 0 gram
Carbs: 16 grams
Fiber: 6 grams
Vitamin C: 30% of the Daily Value
Manganese: 32% of the DV
Vitamin K: 18% of the DV

The berries also supply folate, iron, and vitamins A and E. They are an excellent source of beneficial antioxidants.

Pure

Natural Superfood

Aronia berries provide a variety of health benefits thanks to the incredibly high levels of antioxidants found in their plant pigments (anthocyanins) and the micronutrients (polyphenols) they contain.
Our bodies create free radicals as a natural byproduct of metabolism. A number of factors can cause the number of free radicals in the body to increase, such as stress, alcohol, infection and even radiation. Too many free radicals in the body can lead to what is known as oxidative stress, whereby the free radicals begin to attack or break down healthy cells leading to a greater risk of disease and illness.


Native

North American

Aronia is a native North American plant that is widely grown in Europe for fruit production. Aronia plants can easily be grown in the North American ecosystem in growing zones 3 to 7. The also called Chokeberry plant is a decidious, self pollinating, perennial shrub.
Growing Aronia berries in your garden brings many advantages. It is a very decorative and robust plant. Aronia is able to withstand insect infestations and is adapted to the natural ecosystem. Better than non native plants, it can easily handle diseases as well as natural variations in climate. Once planted in your garden, the Aronia plant requires just little care.

Demeter Aronia Berry Powder (100g)
In our Berry powder were processed over 1,600 fresh berries in high quality. The close-to-nature, sustainable and holistic philosophy of biodynamic agriculture according to Demeter and our expertise guarantee top-class berries.
Buy Now

Organic Aronia Juice 100% Pure (350mL)
With our organic Aronia juice, you experience the taste of sun-ripened chokeberries from 100% German cultivation. The fruity-tart juice comes from the first pressing and contains no additives such as preservatives, colours and flavourings.

Buy Now

Organic Aronia Berries Dried (200g)
Our organic black chokeberries are gently dried immediately after harvest; you get the full taste of sun-ripened fruits. They are versatile and ideal for baking, muesli or pure snacking.

Buy Now

Latest Blog Posts
7 Best Superfoods For Weight Loss

With the world in and out of lockdown and many of us spending more time at home, weight gain concerns have been on the rise. We have compiled a list of 7 of the best superfoods (Aronia, broccoli, green tea) for weight loss to help you tame your lockdown tum.

Read more